SPRESENSE A smart processsing board for IoT, operatable by dry cell batteries

Spresense – key functions and features
Integrated GPS

The embedded GNSS with support for GPS, QZSS and GLONASS, making it possible to receive multiple system simultaneously and highly accurate position measurement.

Advanced digital audio codec and amplifier

Equiped with Hi-res audio output (192kHz/24bit), multi mic inputs support for up to 8 channels, and Class-D digital amplifier

Multicore microcontroller

Equipped with 6 ARM® Cortex®-M4Fs for low power consumption driving
Click here for further information such as how to install the development environment and sample codes, etc.
About Main Board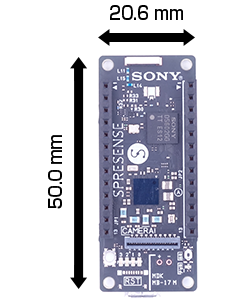 Model number
CXD5602PWBMAIN1
CPU
Equipped with 6 ARM® Cortex®-M4Fs
Maximum clock frequency
156MHz
SRAM
1.5MB
Flash memory
8MB
Digital input/output
GPIO, SPI, I2C, UART, PWM, I2S
Analog terminal
2ch (0.7V range)
GNSS
GNSS, GPS(L1-C/A), QZSS(L1-C/A),
GLONASS(L1), WAAS, QZSS(L1-S)
Software
Spresense Arduino Library (Arduino IDE)
Spresense SDK (GNU Make)
Other
Camera interface
About Extension Board
Main Board

Headphone
terminal

Microphone
terminal

microSD
card slot

I/O voltage conversion
1.8V→3.3V or 5.0V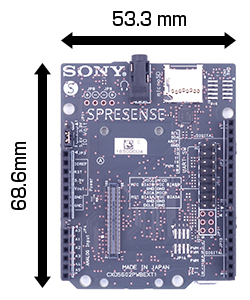 Model number
CXD5602PWBEXT1
Audio input/output
4ch analog microphone input or 8ch digital
microphone input, headphone output
Digital input/output
3.3V or 5.0V
Analog input
6ch (5.0V range)
Other
microSD card slot
*The extension board will not operate without the mainboard.
About Camera Module
| Model number | CXD5602PWBCAM1 |
| --- | --- |
| Number of effective pixels | 2608(H) x 1960 (V) = approx. 5.11 M pixels |
| Operation voltage | DC 3.7V |
| I/O voltage | DC 1.8V |
| Camera interface | CMOS 8 bit parallel |
| Output format | Y/C, RGB, RAW and JPEG |
| Control interface | I2C |
| Built-in filter | IR cut filter |
| FOV | 78°±3° |
| Depth of field | 77.5cm ~ ∞ |
| F value | 2.0±5% |
| Focus | Fixed focus |
Other Related Products
Sensor Related Products
SPRESENSE-SENSOR-EVK-701

Acceleration, pressure, and geomagnetism data sensor functions which are indispensable for motion sensing
It can as be extended with more than 7 sensor functions such as illuminance and proximity, color, magnetism, temperature, ultraviolet light, pulse wave.

SSCI-039284

Temperature, humidity, and pressure sensors
Equipped with Bosch's BME280
Equipped with 3.3V I2C terminal for extension

SSCI-052580

3-axis accelerometer, 3-axis gyro,pressure, temperature sensors
Equipped with Bosch's BMP280/BMI160
Bluetooth

SPRESENSE-BLE-EVK-701

Built-in antenna
TELEC, FCC, CE, IC Radio Law certification has been acquired
Simple communication confirmation with smartphone is possible with smartphone application "BLE Tool"

Wi-Fi

iS110B

Built-in antenna
TELEC (technical standards compliance)/FCC/CE certified
Equipped with Telit's GS2200MIZ
Conform to the standard of IEEE802.11b/g/n (2.4GHz)

Related accessories

Universal board
Conversion board
Pin header
Mini spacer
Extension board

PDA01

Equipped with 8 push switches
Equipped with Kionix's KX122-1037
Equipped with 3.5mm stereo headphones/stereo microphone
Power supply method for Spresense main board
Use the main board's mico USB connector. (Also available to program) The micro USB port is recognized as a serial port by the PC.
Connect a 5V±0.25V power source to the VOUT pin on the extension board, this is convinient when supplying power from another board. ※If you connect a power source with a voltage less than a range of 5V±0.25V, the main processor may be destroyed.
If you are using the Spresense extension board the micro USB connector on the extension board can be used to power the system when the two boards are being used as a set. The micro USB port on the expansion board side is recognized by the PC as MSC (Mass Storage Class)
The Spresense can be powered by a USB battery pack. For reliable USB battery pack operation choose a battery pack that has an "always on" feature or use a USB "keep-alive load".
Edge AI system development
By linking with Sony's Neural Network Console, it is possible to easily build edge AI systems that had been high hurdles until now. For those looking for full-fledged embedded development, the NuttX-based Spresense SDK lets you take full advantage of the power of Spresense.